Never worry about recruiting your own participants for user testing again! Every time you run a usability test with Trymata, you can draw on our panel of over 500,000 demographically curated testers to get the exact kind of participants relevant to your products and brand.
Setting up demographic filters for your user tests
Filtering for the right testers is easy. With our built-in demographic filters, you can target user attributes including:
Gender
Age
Country of residence
Household income
Education level
Employment status & type
Relationship & parental status
Community type
Social networks usage
…and more! Filters can be combined in a variety of ways, to capture audiences with whatever combination(s) of important traits you need for your user tests.
In the example screenshot below, for instance, we're creating a test that can be taken by testers from 25-50 years old, in the US, Canada, Australia, or New Zealand, in the second or third income quartile. Note that you don't have to make selections for every attribute – if you don't care about testers' gender, for example, you can leave this field set to "Any gender."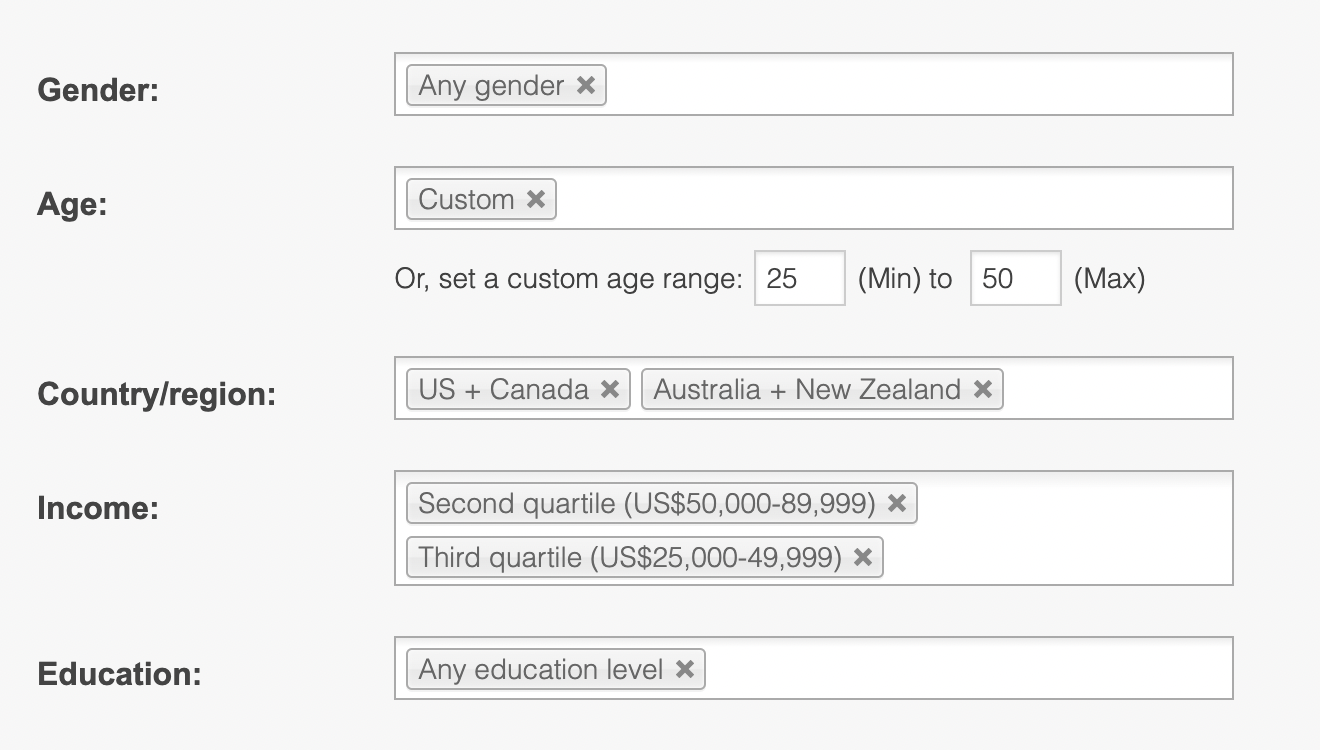 Once you've added your filters and launched your user test, Trymata will find eligible participants from our panel, and send them to take the test. Before long, you'll be watching feedback from exactly the kind of people in your real target audience.
For more specific tester criteria, you can apply custom screeners in addition to the demographic filters. Custom screening can include technical screeners, verbal-response screeners, and/or multiple-choice survey questions.
Let Trymata take care of your tester recruitment needs
Use our demographic filters and custom screeners together to take care of all your user testing recruitment needs. Trymata's user testing platform has been serving teams of all sizes since 2015.
---
Learn what your target users really think of your website today:

---
Related reading: