Video feedback is a powerful tool for inspiring better product decisions; but not everyone on your team is going to watch the full session videos collected from your usability testing studies.
With our highlight reel feature, you can stitch together all the most crucial and insightful moments from your user test videos, to create a persuasive and digestible summary of your most important findings.
"There's nothing more impactful than showing a video clip to stakeholders. It makes everything click. They really see that it's real people and real problems that we're dealing with."
– Jordan Becker | Usability Specialist, Gallup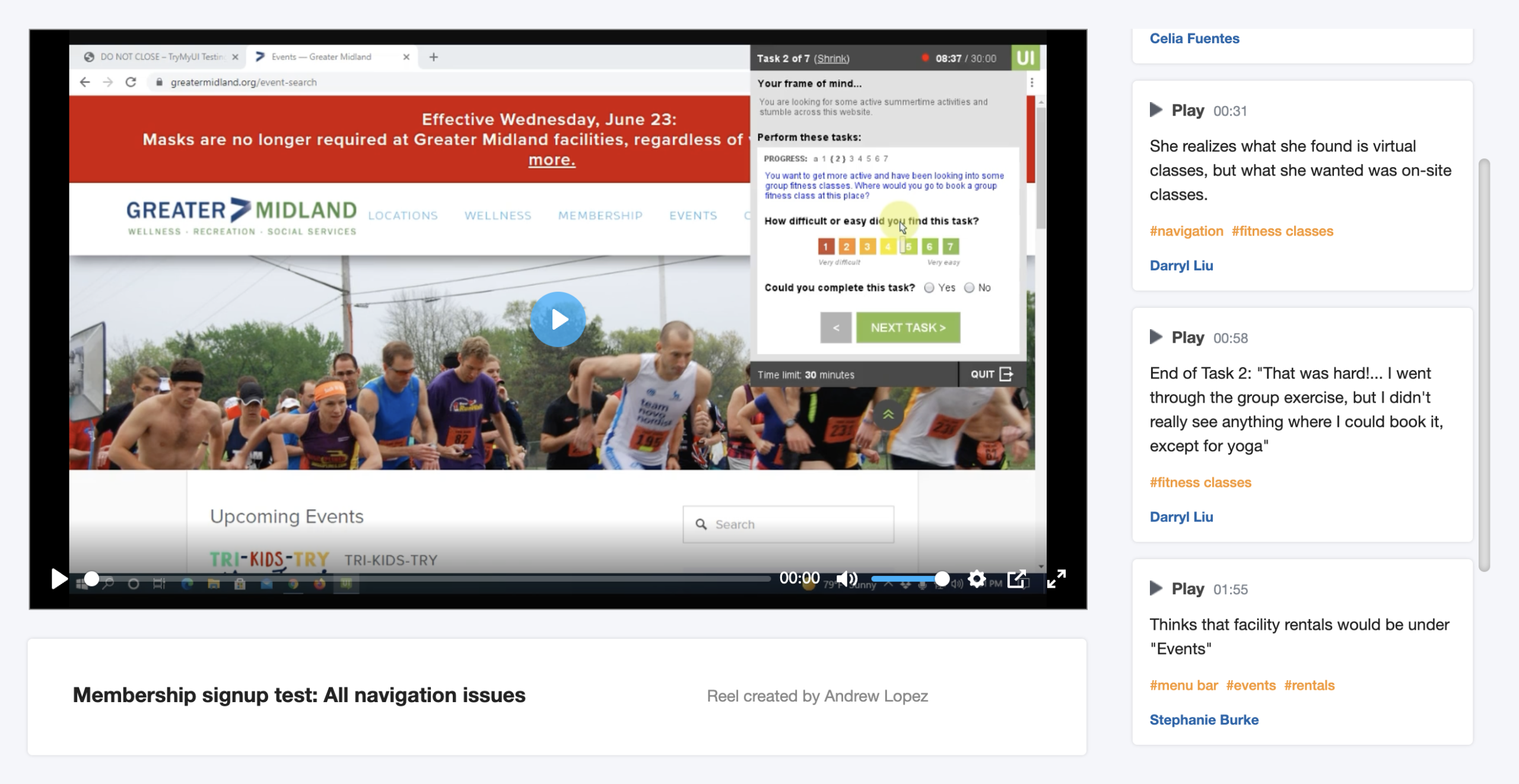 Turn user testing studies into quick & easy highlights
Trymata's highlight reel feature enables you to share just the most critical, compelling, persuasive video clips from your study in a quick and easy format.
As you watch your user test videos, you can create automatic video clips on the fly by adding timestamped annotations. Then, you can turn those clips into a highlight reel by choosing the ones you want to include, and stitching them together in our simple editor.
All the clips you've created from your whole study are available to pick from, and can be searched or sorted by task, by tags, and by author.
Sharing your user testing highlights
Once you've generated your highlight reel, you are able to share it with team members, stakeholders, or clients via a public link, or by exporting the reel video as an mp4 file.
When viewing the highlight reel (via public link or from your logged-in Trymata account), all of the individual clips used to create it are tagged alongside the video, with a timestamp and play link and the notes from your original annotation. This allows viewers to quickly skim and see all the component clips in the reel, and jump around to specific parts for rewatching if needed.
Highlight reels are available at all Trymata plan levels. On the Team Plan, you can create up to 3 reels per month, or 36 per year; on Enterprise & up, get unlimited highlight reels.
Get user videos of your own website or app!
Want to get real user feedback on your own website, app, or other digital product? Sign up for a free trial of Trymata Usability Testing and get your first 5 test results completely free!