Usability testing is not a one-and-done research method. Often, for important new releases and projects, multiple rounds of testing need to be done throughout the design and engineering workflow.
Trymata's built-in sprint testing features make it easy to not just run multiple rounds of user tests for your projects, but to compare the UX data across sprints to validate your improvements.
Run "UX sprints" on your Trymata user tests
Our UX Sprint capability enables you to do iterative usability testing that supports and builds on your design process, to measure the impact of your work and point the way forward.
On any completed Trymata usability test, you'll have an option to run a new "sprint" of that test, passing the same set of tasks and questions to a new batch of users to perform. Then, your new sprint results will populate on the same test page, automatically separated by sprint so you can directly compare metrics and diagnostics between new and old results.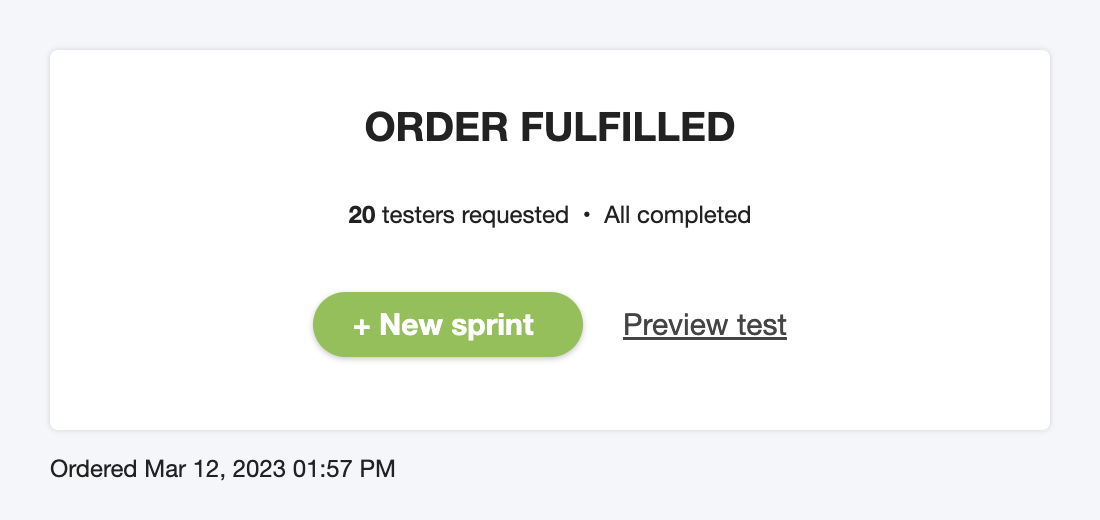 On tests with sprints, you'll be able to compare quantitative metrics such as SUS scores, task usability ratings, time on task, and more, across all your sprints.
Better UX through user testing sprints
With the UX Sprint view, you can easily benchmark your performance, and measure how the usability of your designs has been impacted by the changes you make on each iteration.
Some great applications of sprint testing that we've seen customers use include:
Early prototyping iteration: After getting feedback on an early prototype, make design updates and run a new sprint to see how your new version compares.
Spot-fixes on live websites: After uncovering and fixing a UX issue on your live site, test the same flow again to make sure your fix has fully solved the problem.
Quarterly benchmarking: Create a general usability test for your key user flows, and run a new sprint every quarter (or other interval) to ensure the overall user experience of your site is healthy and improving.
UX Sprint is available on all Trymata usability testing plan levels.
Run your first user testing sprint today
Ready to start continually improving the UX of your website or app? Trymata's usability testing free trial gives you 5 test results completely free: enough for your first sprint!