UserTesting and Trymata (formerly TryMyUI) both offer remote usability testing tools, with all the core functionalities and benefits you'd expect from a user testing platform. So what's the difference between the two, and what makes Trymata the best alternative to UserTesting?
The short answer is that Trymata's user testing features are at a similar level of robustness to UserTesting (offering more advanced tools in some areas), while our pricing is more transparent, flexible, and affordable than UserTesting.
Read below for the full details.
Trymata's usability testing tools vs UserTesting
We all work under a set of strictures and limitations. Every product team, UX team, design team, and marketing team is set up differently, operating with their own unique workflows, within their own budget for tools and software.
With over a decade in business, Trymata understands the vastly different compositions, workflows, needs, budgets, and limitations of the different teams that rely on usability testing tools. That's why we strive to be the most convenient, affordable, and sensible choice for usability testing over UserTesting.com.
Let's dive in here and put UserTesting on blast. We went undercover to get the info you need, and you'd better believe we're bringing the receipts.
Note: the support specialist has been blurred to protect identity even though they were just doing their job.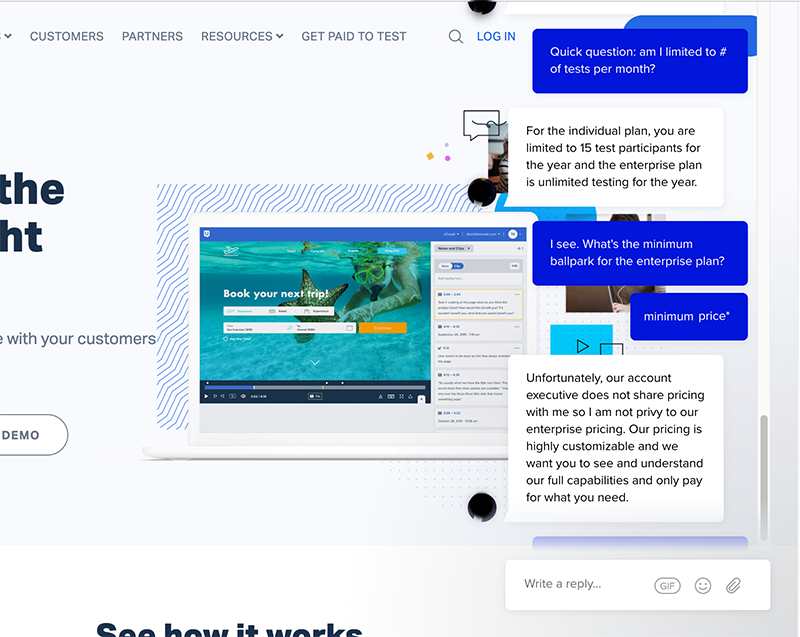 Pricing and transparency
As you can see in the screenshot above, User Testing is not particularly transparent about their pricing. You'd have to schedule a demo and be sold to, just for basic pricing information.
With Trymata, you can see predictable and transparent pricing for all of our plans, as well as the complete features list. You know the pricing ballpark before you even contact us. That's just how we roll.
We've been told anecdotally, during our own demos, that UserTesting is about 4 times the cost of Trymata, with fewer features and virtually no flexibility. (This can only be learned after sitting through a UserTesting sales pitch.)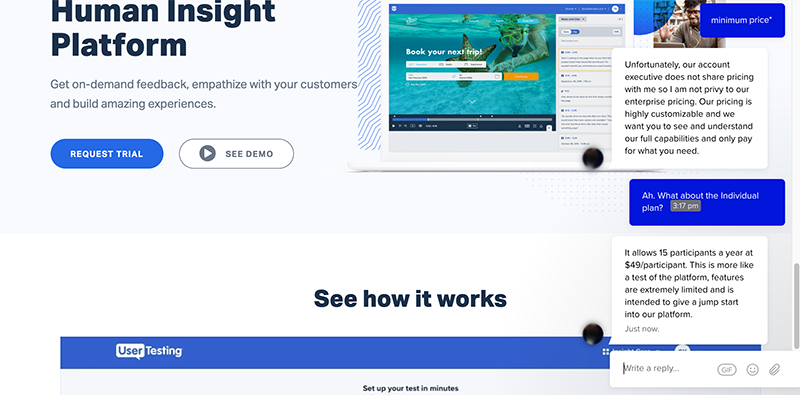 Let's look at the UserTesting Individual plan, since we do know that price. Seemingly affordable, coming to an annual expense of $735 – except that it isn't.
UserTesting's individual plan comes with 15 participants for the entire year. And if you think you can purchase more with UserTesting, you'd be wrong.

With any of Trymata's usability testing plans, you can buy as many participants as you want for the year, in addition to the amount allocated at the start of your subscription. UserTesting, on the other hand, locks you in at just 15 for the year.
If you're familiar with the best practices of the UX industry, you probably know that 5 users is the absolute minimum to get meaningful qualitative results. So that's a maximum of 3 meaningful usability studies per year with UserTesting (at the bare minimum user testing sample size), versus a meaningful usability study with Trymata whenever you need.
---
Ready to try our flexible, powerful user testing tools?
---
Trymata's usability testing capabilities vs UserTesting

Both Trymata and UserTesting offer similar core capabilities that any leading remote usability testing platform will give you: quick task-based test setup, tester recruitment with filters & screeners, facilitation of user-narrated session videos, and some kind of survey response data.
However, Trymata's array of user testing features, from test setup to data analysis and collaboration, have been designed to give you the complete end-to-end tool you need to perform rapid, efficient, streamlined research and turn your testing insights into real product impact.
Quantitative usability testing features with Trymata
Trymata's quantitative UX Diagnostics suite is the complete quantitative package to support and quantify the qualitative feedback in your test videos and survey responses.
A long list of built-in psychometric models (that UserTesting does not have) gives you the ability to collect industry-standard UX metrics that quantify your design performance, at the study level as well as for individual sessions.
With the SUS, NPS, PSSUQ, SUPR-Q, and more, you can choose the scoring model(s) most relevant to your interface, and get scores for every test so you can benchmark your UX progress, compare between different design versions, or see how you stack up to competitors.
In addition to these overall scoring models, you can collect task-based metrics to quickly identify the usability fluctuations, trends, and pain points within your testing flows (all before watching a minute of video).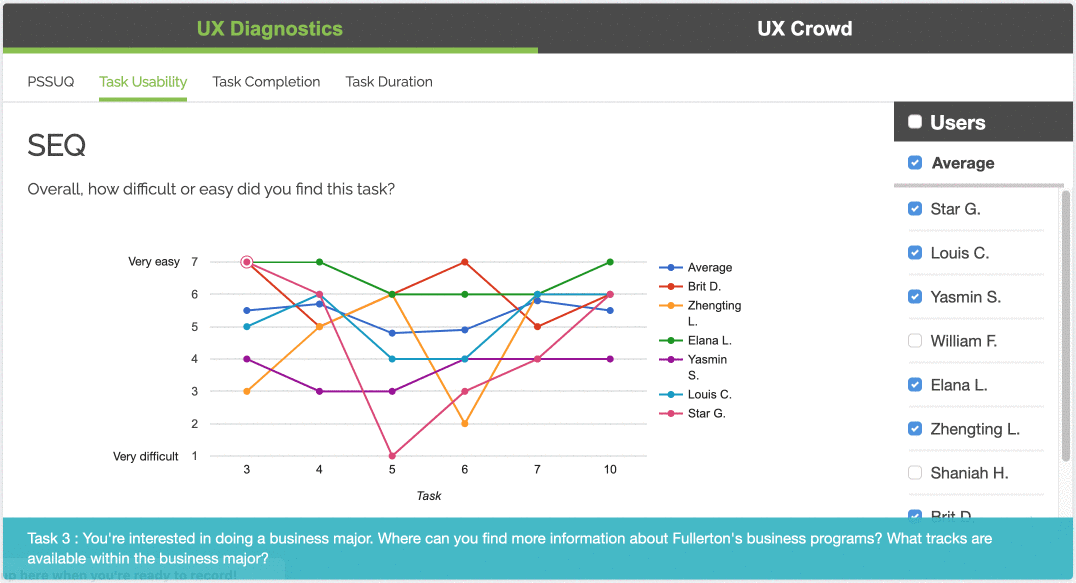 Task usability: The Single-Ease Question (SEQ) is a simple but effective industry-standard metric designed to measure the usability of specific tasks in a task-based usability test. If you include the SEQ on your tasks, you'll get a graph showing how easy or difficult each one was, with the ability to jump straight to important video moments by hovering on the graph.
Task completion: If users are unable to complete a task, they can indicate this by filling out a completion question at the end of the task. You'll be able to quickly see if you have any urgent problems in your flow as soon as the results come in.
Task duration: Our task duration counter is always running in the background, and is compiled into a sortable, coherent graph like the rest of UX diagnostics. You can see how long each task took, which users took longer (or shorter), and jump to moments of interest in the videos.
Quickly quantify qualitative data with the UX Crowd
Usability testing can be a time-consuming process – and when all your results are in, the process has only just begun. Fortunately, Trymata's unique UX Crowd feature helps you identify the most crucial positive and negative user reactions to your designs before you watch any videos!
When you include the UX Crowd feature on one of your user tests, participants submit the top things they liked and disliked about your website or app, and vote on answers submitted by other testers. After all your results are in, you'll have a vote-ranked list showing the most urgent UX issues (as well as strengths) in your designs.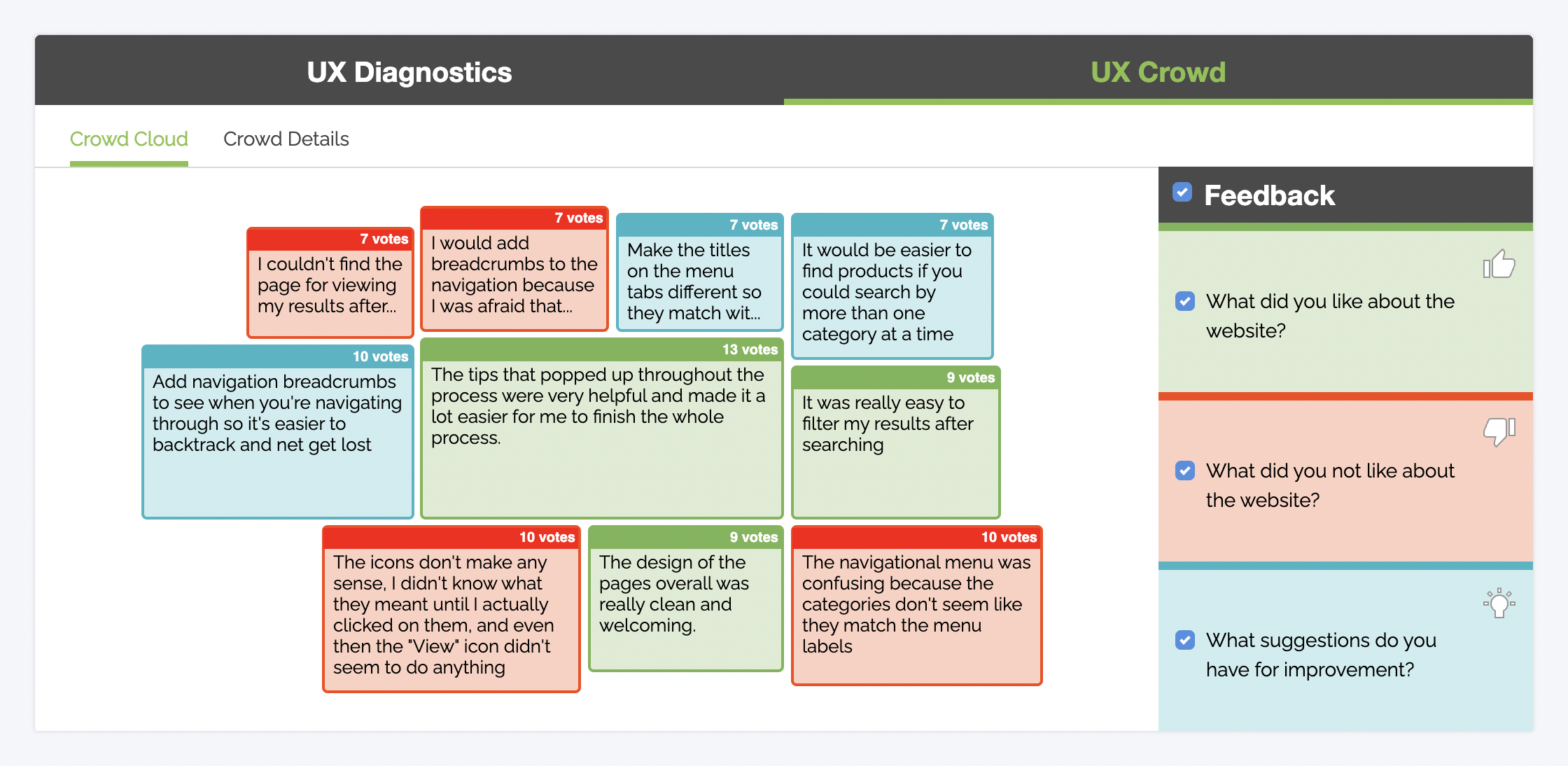 From there, it's easy to build a concrete plan for improving your designs and fixing usability issues. You already have a complete list of big problems, medium problems, small problems, and non-problems, plus things you should keep. You may even get some new ideas for features or interactions that you had never thought of before.
Collaborative usability testing features with Trymata
Usability research should engage everyone on the UX & design team to keep the user's experience at the core of the design process. With our collaborative analysis tools, all team members can access and share research projects and work together to extract insights.
Our annotations feature allows anyone to add tagged and timestamped notes to user videos so the rest of the team can easily view the main highlights of that video. Then, you can use your annotations to rapidly create a highlight reel to share key video moments.
Many product managers and UX designers believe they don't have time to do usability testing; but with remote usability testing tools built to expedite setup, analysis, and action, you can put the user at the center of your design process and still be on time for your deadline. With Trymata, you're getting the best, most robust UserTesting alternative.
Trymata offers your team features that UserTesting doesn't, without sacrificing what you loved about them, and at more affordable prices. Drift.com even rated us the best usability testing platform for any budget, a list that also included UserTesting!
Want to get started with the best user testing platform for any budget?